International Women's Day All Year Long
---
#Balanceforbetter – what a great hashtag! That's the theme for International Women's Day 2019. While it's celebrated on March 8 each year, the global campaign continues all year long as it should.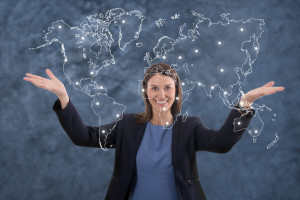 I remember celebrating International Women's Day back in the 70's during the height of the women's movement. With the increased focus on gender equity it has become much more mainstream.
International Women's Day is a global day celebrating the social, economic, cultural and political achievements of women. The day also marks a call to action for accelerating gender parity. According to the website, International Women's Day (IWD) has occurred for over a century, with the first​ ​IWD gathering in 1911 supported by over a million people in Austria, Denmark, Germany and Switzerland. Prior to this the​ Socialist Party of America, United Kingdom's Suffragists and Suffragettes, and further groups campaigned for women's equality.
And March is Women's History Month. According to the Women's History Month website this month had its origins as a national celebration in 1981 when Congress passed a bill authorizing and requesting the President to proclaim the week beginning March 7, 1982 as "Women's History Week." In 1987 after being petitioned by the National Women's History Project, Congress passed a bill which designated the month of March 1987 as "Women's History Month."
I've been seeing a lot of women's events and webinars promoted on social media channels. Webinars and live webcasts I've registered for this week include:
The State of Women at Work
Women in Technology Role Models: A Global Perspective
Tech She Can: Together we can change the ratio
It took me a minute to realize that live webcasts at 5 AM weren't a mistake. With international events online, that's the middle of the day somewhere in the world. The good news is that they are all available on-demand afterwards at BrightTALK.
I've lived in Rhode Island since mid-2016. As I've gotten more involved in my community, I've decided to contribute both time and money to Women's Fund Rhode Island (WFRI). Their mission is "to invest in women and girls through research, advocacy, grant making, and strategic partnerships designed to advance gender equity through systemic change." They envision a community, nation and world that is free of gender bias and where social justice exists for all. I've agreed to be on the grants review team and am looking forward to learning about many local programs supporting girls and women.
And I'm taking my daughter as my date to the annual WFRI fundraising event on May 1st – this year's theme is "Women Leading Change: Women in STEAM". My daughter gave me a T-shirt at Christmas that says, "Strong Women Raise Strong Women" and donated to Girls, Inc. in my name. As they say, "the acorn doesn't fall far from the tree".
While I came of age during the women's movement, many women in business thought we should lay low – don't talk about gender differences or inequality. In late 2014 I gave the opening keynote during dinner at a small invitation only health IT conference that had the typical audience makeup of 80% men. I focused on the future labor force and issues women faced. Overall my talk was very well received. From there I got bolder and started regularly speaking and writing on issues facing women. My focus and passion for helping develop women leaders has evolved to a new service StarBridge Advisors is offering called C-change which we launched a month ago. Through C-change we want to equip female leaders in health IT with the perspective, knowledge, skills and support to be an effective leader – her way. We want to see women occupy at least 50% of healthcare CIO positions and all the roles along the way.
There's no question that there is a new focus on developing women leaders as evidenced by the 2019 Modern Healthcare Women Leaders in Healthcare Conference July 31-August 1 in Chicago and the 3rd Annual National Women in Health Care Leadership Summit April 29-30 in San Diego.
And the Time's Up movement has come to healthcare. Women make up roughly 80 percent of the healthcare workforce, but only 11 percent are CEOs, according to Esther Choo, MD, one of the founders of Time's Up Healthcare, which launched March 1 as reported by Becker's Hospital Review. The article notes that "Time's Up Healthcare is part of the national Time's Up movement, which was created in January 2018 to draw attention to issues of harassment and gender inequality in the entertainment industry. Since coming together roughly six months ago, Time's Up Healthcare has grown to include 50 founding members and 13 senior advisers."
Carla Smith, former EVP at HIMSS and now an independent consultant, has been a vocal leader and advocate for women in recent years launching the HIMSS Women in Health IT initiative. Her recent blog post sums it up well – gender equality in healthcare just makes sense.
In a post by Becky Carr celebrating women's history month, she closes with this: "Finding strength in legacy is an incredibly important way to both honor influential women and learn from the mistakes and gains that they've made. Do what you can this month to acknowledge the powerful women of the past by building up the amazing ladies of our future."
As the International Women's Day website says collective action and shared ownership for driving gender parity is what makes IWD successful.
What are you doing to create a #BalanceforBetter today and every day?
This piece was originally published on Sue Schade's blog, Health IT Connect. Follow her on Twitter at @sgschade.
RETURN TO CHIME MEDIA